A friend recently gifted me a copy of
Donna Hay's Fast, Fresh, Simple
cookbook and last Sunday the boyfriend and I indulged in our first recipe; the egg & bacon pies. Check out my results below - pretty impressive for a quick and easy breaky! the perfect fluffy eggs...and I know its only Tuesday but I'm already looking forward to another weekend's breakfasts a-la Donna Hay!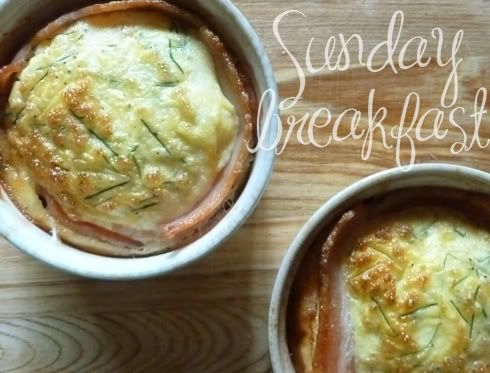 1tblsp of parsley leaves ( I used fresh chives instead)
Preheat oven to 180˚c. Grease 2 ramekins/pie tins and line each with 1 1/2 rashers of bacon (next time I'm going to cook the bacon a little in a pan first for maximum crispiness). In a bowl whisk together the eggs, cream and herbs. Pour the mix evenly into the ramekins and bake for 25mins or until the egg is set. Serve with hot buttered toast.