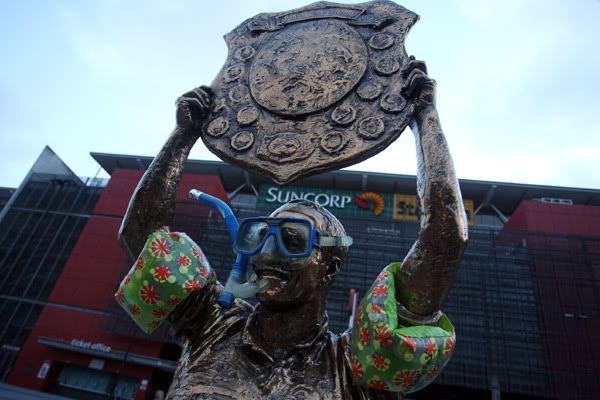 Im sure by now everyone in Australia, and a great deal of people from the rest of the world, are talking about the tough week we here in Brisbane and the rest of Queensland have been having...
Thankfully my home escaped, but a great deal of others haven't and my thoughts are with all those families, I cant even begin to imagine...
However, for as many horrible things we hear about on the news thankfully there seems to be two more positive stories to hear that demonstrate the Aussie spirit in full swing. I love this cheeky
shot
of a 'flood prepared' Wally Lewis outside Suncorp Stadium.
As an apt newsreader reported today; its been heartbreaking and now it will be backbreaking as the cleanup begins. But I like to think that as gumboot clad, broom wielding Brisbanites rally together, things will start resembling normalcy soon and there is no doubt this is still a wonderful place to live! Please take care and stay safe in what is still a dangerous situation, lets look after each other and make sure no one is left to face this alone. Donate or register to volunteer your time through the Queensland Government site
http://www.qld.gov.au/floods/