Started on a whim a scant 5 months ago, Family owned and run Apples On Ainsworth is a gourmet "boutique fruit shop" with a fresh attitude, (pardon the pun) in the South Brisbane suburb of Salisbury. On a recent sunny afternoon I took my first trip to number 28a Ainsworth Street and with one step inside was immediately welcomed by the most lovely fresh smells, a smile from Kym and her partner Sarah (two of the owners along with Kym's mum Kelly) and a deliciously ripe strawberry for sampling.
Living as kids on the Sunshine Coast Kym's parents were long time fruitiers and it's not surprising the 'produce' gene was passed down (in her time out from Apples, Mum kelly still works the Gourment Potato market - of which I wasn't aware one existed!- out of the back room). The store is definitely a Family affair with Kym's dad, brother, sister and grandma also putting in some hours (in exchange for treats Im sure).
Have a look at some of the photos I snapped and its easy to see why I was in love with the store's quirky 'farmhouse-esque' decor on sight. There was vintage furniture overflowing with wicker baskets and fresh produce... charmingly crafty merchandising and mirrors galore, all on an Aubergine and blackboard-black canvas (of which Im told was not an immediate favourite with everyone - check out the Before & After shots on their Facebook page).
Selling only Aussie seasonal produce the team has an admirable waste not want not attitude, with all scraps going to chooks and those fruit and vegies not in tip-top display condition sent to a local kitchen to be transformed into the delicous soups and salads available in-store.
In my time there, Apples filtered a constant stream of friendly locals and the girls seem to be settling into their new roles nicely. I left that day with a jar of aoli, a pot of chives, some gardening tips and the thought that this team is a long way from Con the Fruitier! This place is so much more than fruit and vegies; they have fresh flowers, jams, honey, herbs and soups, hand-written recipes, eggs, sauces, spices and more! So, the next time you're out Salisbury way, drop in and Im sure everyone at Apples On Ainsworth will welcome you with a smile.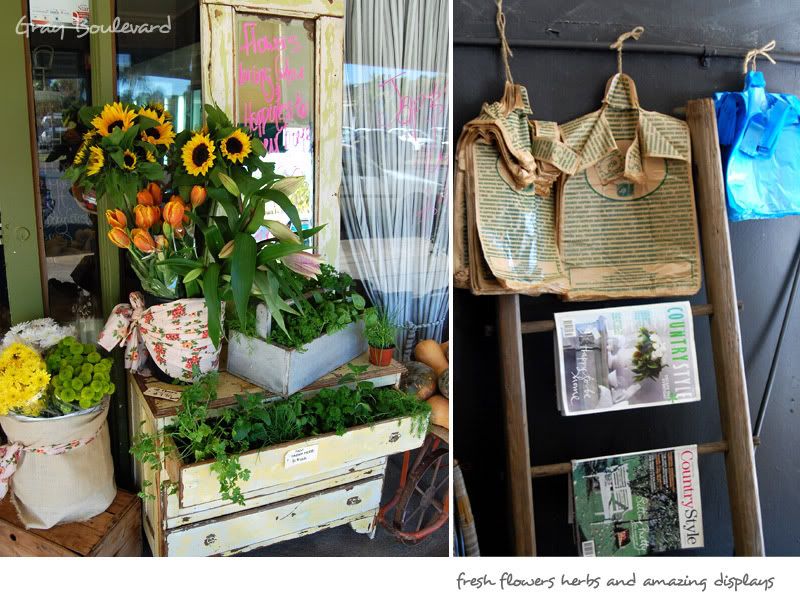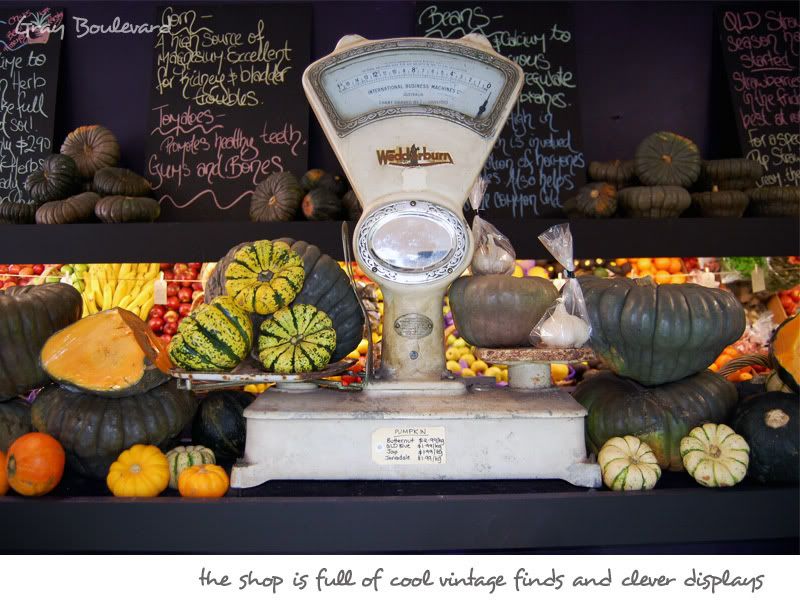 5 MINUTES WITH KYM FROM APPLES ON AINSWORTH
GB - WHAT WERE YOU DOING BEFORE YOUR FORRAY INTO FRUIT?

KYM - Sarah has experience as a Family restaurant Manager and worked in finances before coming into the shop.
Kel has worked with fruit and veg for the past 20 years and has a gourmet produce store at Brisbane Farmer Markets.
I worked with Ladies with intellectual disabilities and mental health issues, as well as helping Mum with her Markets.

GB - HOW DID APPLES COME TO BE YOURS?
KYM - I had an accident and am now unable to work for any employer. So after feeling very sorry for myself for a few months, and many conversations with Mum and Sarah about the future, we decided that it might be a good idea to open a business. And what better of a business to open then Fruit and Veg! which has a been in the family for practically my entire life. Dad had mentioned that the 'Cute fruit shop' in Salisbury was up for lease. Sarah and I went and had a look that very night and the following day we signed the lease.

GB - WHAT WAS IT BEFORE YOU TOOK OWNERSHIP?
KYM - Apples on Ainsworth has been a fruit shop for over 50 years.... And has seen many owners. Many of our older customers tell us stories about previous owners.

GB - WHAT SHOULD WE BE BUILDING OUR RECIPES AROUND AT THE MOMENT? (WHATS FRESH & IN SEASON)

KYM - Qld Strawberry season has just begun and they are delicious!!! Effort should be made to eat as much of these as possible as they're only around for a few months. Strawberries are a great base for easy desserts, cocktails, sauces and Jams. Farm fresh Peas in the Pod are in season, great as a snack, made into soup, lovely in Salads.... Also Cauli Flowers are the best they'll be for the entire year... Cauli flowers are great baked or steamed... and Cauli's make a fab soup too.

GB - DOES THE SHOP HAVE A BEST SELLER

KYM - Best sellers generally change every day...we can't pick what sells the best.... but we wish we could!!!

GB - ANY ADVICE FOR SOMEONE STARTING THEIR OWN BUSINESS/BIGGEST LESSONS YOU'VE LEARNT

KYM -Potential business owners should be prepared to breath, sleep, eat and drink there business.... everything you do revolves around your business... everything you think is business related... it becomes addictive and other things in your life that you think are important no longer seem as important anymore. Biggest lesson I've learnt is no one is going to give you a medal for all of your hard work, long hours and effort, and sometimes it wont even bring in more money... But sometimes it does and that feels better then any medal.

GB - BEST THING ABOUT OWING A FRUIT AND VEG SHOP

KYM - Being surrounded by fresh produce is always cheerful, and being able to share recipes and advice on that fresh produce is the best thing about owning a fruit shop.

GB - WORST THIN
G

I sometimes think the hours are the worse part about having a shop.... But when you really enjoy what you do, you generally don't notice the massive days. However, there are some Saturdays were I think "god I'd love to be sipping a coffee and strolling through the markets". Then someone will come into the shop and tell me about how they cooked one of our recipes, or how much they love our shop and it makes strolling through the markets seem like a waste of time.

GB - WHATS NEXT FOR APPLES ON AINSWORTH

KYM - What's next?????? We are hoping to open a juice bar / coffee bar within our shop. We'd like to limit waste as much as we can and juicing is a great way of using bruised or damaged produce....
Apples On Ainsworth is open 7am til 6pm Mon to Fri and 7am til 4pm on Saturdays
(visit Kellys blog and the Facebook page for regular updates, recipes and more)